Root Canal Retreatment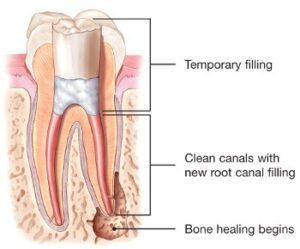 A root canal retreatment may be necessary if a previously root canal treated tooth fails to heal or if a recurrent infection is evident.
Root canal treatment has a very high rate of success, but as with other medical or dental procedures, infection or inflammation may persist or recur despite our best efforts. Your Endodontist may be able to provide insight into potential causes and how they may be corrected. A root canal retreatment procedure may be the best option to preserve your tooth.
The root canal retreatment procedure is similar to the root canal treatment procedure, but has a few extra steps and usually requires two visits. The first visit consists of removal of all root canal filling materials and placement of an antibacterial paste called calcium hydroxide. The tooth is then closed with a temporary filling material. This antibiotic medicament is left in the tooth for some time to reduce the number of bacteria and give the tooth the best chances of healing.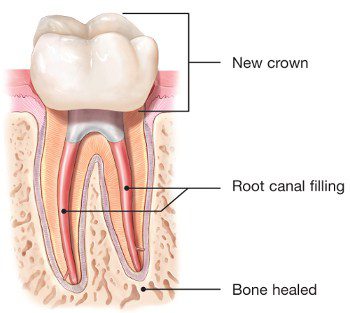 On the second visit, the calcium hydroxide paste is removed, the canals are once again thoroughly cleaned and shaped, and a new root canal filling is placed. Finally, a temporary filling is placed to close the opening in your tooth. Your dentist will remove this temporary filling at the time the tooth is restored. Following root canal retreatment your tooth is susceptible to fracturing, or to infection due to loss of the temporary filling. Therefore, it is imperative that you return to your dentist in a timely manner in order to restore the tooth to its full functionality.
Endondontic Retreatment Explained
Watch this video to understand how root canal retreatment can save your tooth and learn more about the endodontists who specialize in this dental procedure.